This shop has been compensated by Collective Bias, Inc. and its advertiser, Emergen-C®. All opinions are mine alone. #FallImmuneSupport #CollectiveBias
I'm sure you can imagine that being a food and travel blogger is a lot of fun. After I explain what I do to most people, their response is, "That sounds awesome! How do I get that gig?!" And then I have to explain that it's a lot of fun but also a lot of work and stress on my body. I have to keep myself feeling my best, and as we come into the fall and winter months, I have already started to think about supporting my immune system by making my Power-C Smoothie every morning for breakfast.
I'm sure you hear a lot about supporting your immune system during this time of the year, but most people don't think twice about it. I have found that starting every morning with Vitamin-C and other vitamins and minerals sets me on the right track for the day, and then I don't even have to think about it later. For quite some time I have turned to Emergen-C® products to make sure  I keep myself feeling good each day and am getting vitamins and minerals for immune support.*
Hover over the photo below to shop for three of my favorite Emergen-C products now.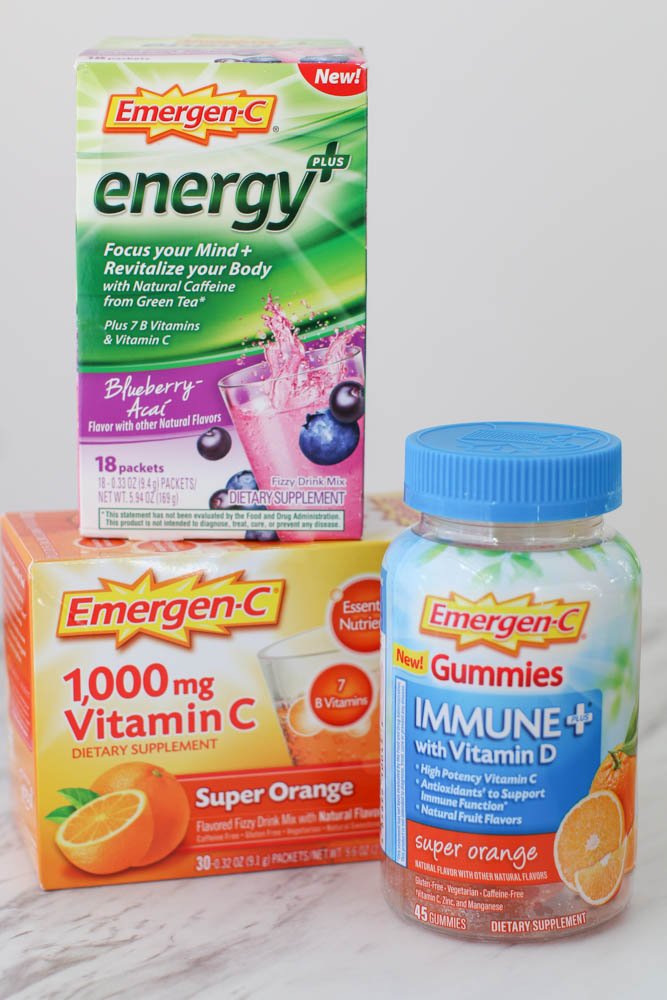 My Power-C Smoothie features a serving of almond milk for a creamy texture and a helping of protein, frozen strawberries for a fresh, fruity flavor, dried ginger for added benefits, and one packet of Emergen-C® Super Orange. I have a personal blender, which makes it easy to whip up my smoothie every morning before I get to work. After I drink this smoothie, I feel powered up for my day and full until lunchtime! Packed with Vitamin C plus other key antioxidants such as zinc and manganese to support your immune system along with B Vitamins to enhance energy naturally,* Emergen-C® dietary supplements are the delicious way to start your day.
Emergen-C® products can be found at Walmart. I have also been loving their new Emergen-C® Energy+ Blueberry-Açai, which is a powder-packed formula with natural caffeine from green tea to focus your mind*; electrolytes to help replenish your body*; plus 7 B vitamins to fortify you and vitamin C for immune support.* It's also available in powder-packed Lemon-Lime, and fruit-y Mango-Peach, which is flavored with natural, real fruit flavors. It's also gluten free. I also recommend their Emergen-C Immune+® Gummies Orange. Bursting with fruit-y deliciousness, chew your way through Emergen-C Immune+® Orange & Raspberry Gummies to support your immune system with Vitamin C and Vitamin D,* Your favorite fizzy flavors, now in a yummy new form! Emergen-C Immune+® Gummies support your immune system with Vitamin C and Vitamin D, support your energy with B Vitamins,* and are made with natural fruit flavors. No water needed!
Wouldn't you love to start your day with a little support for your immune system? Grab your blender and whip up my Power-C Smoothie this morning for breakfast!

Power-C Smoothie
Author:
April | Food n' Focus
Ingredients
6 ounces unsweetened almond milk
1 cup frozen, sliced strawberries
Juice of 1 orange
1 packet Emergen-C® Super Orange
1 teaspoon dried ginger powder
Instructions
Combine all ingredients in a blender and pulse until the strawberries are chopped smooth. Drink immediately.
*This statement has not been evaluated by the Food and Drug Administration. This product is not intended to diagnose, treat, cure or prevent any disease.