Oh hey Monday, how are you doing? I'm back in full swing after my gorgeous vacation in Barbados. It was the perfect opportunity to relax my mind and take a break from all of the work that has been going on in the Food n' Focus world since the start of the year. Our trip was filled with sunshine, snorkeling, rum tasting and tropical foods. As I sit here thinking about how wonderful everything was, I'm taking my flavor palate back to the Caribbean with this Coconut Shrimp With Tropical Rice. A dish that is so easy, you'll be able to make it in under 30 minutes for your family!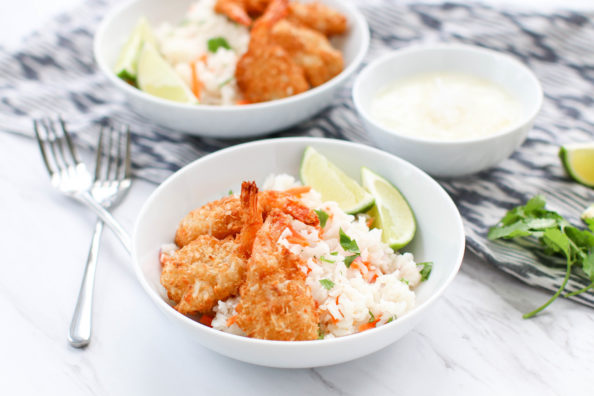 I'm all about homemade and gourmet eating but sometimes during the week I like to take a few shortcuts to make my life easier. My recent discovery of SeaPak® shrimp products at my local Walmart store has helped me create delicious weeknight meals in a snap. SeaPak just launched an awesome recipe book that features 40 quick and easy meals using their products and pairing ideas. I decided to use the SeaPak® Jumbo Coconut Shrimp for this dish to set the tone for a tasty tropical experience. I love that you can make this shrimp in your oven in under 12 minutes! If you are a first-time Walmart Grocery Pickup shopper, you'll receive the booklet in your pickup order until mid-April and you can get 75 cents off of your SeaPak product purchase!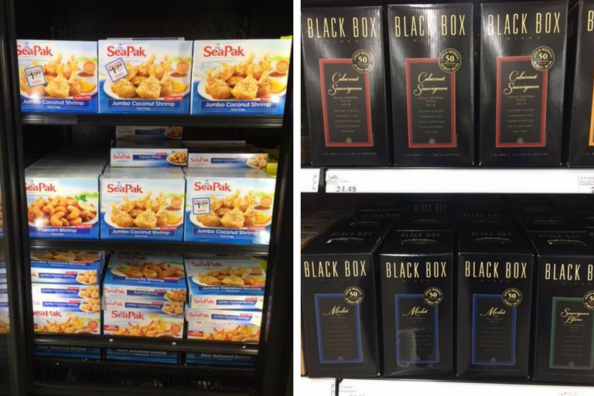 I paired the coconut shrimp with a side of tropical rice made with coconut water, lime zest, carrots and onion. I also made a piña colada dipping sauce for the shrimp! And speaking of pairing, no meal is complete without a side of wine. I love trying new wines and went with Black Box Pinot Grigio to bring out the citrus flavors in the meal. I've never purchased wine in a box before but I was sold on the fact that Black Box wines stay fresh for up to 6 weeks and they are a winner of 50 Gold Medals and 29 Wine Enthusiast Best Buys.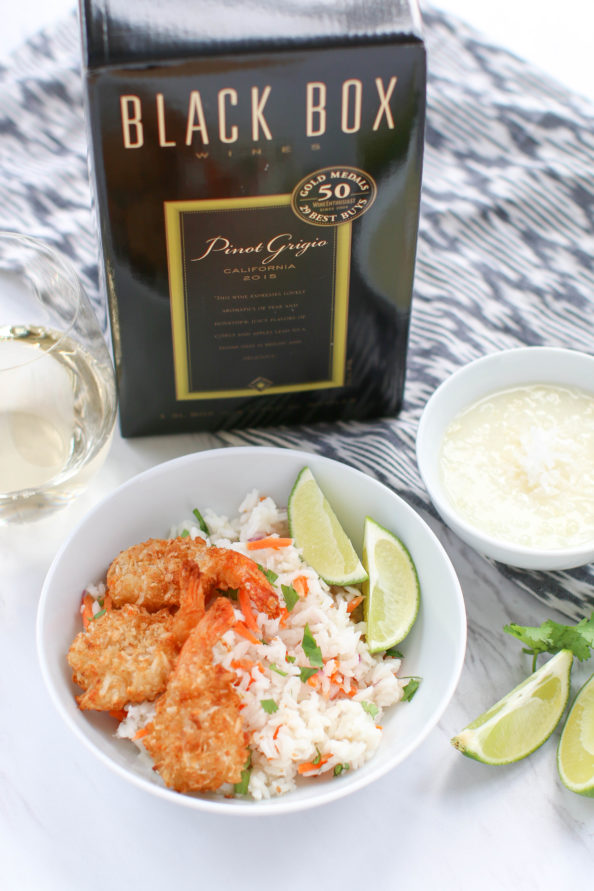 If you're looking to take your family to the Caribbean for dinner tonight, this recipe is perfect for you. And for the adults, don't forget the Black Box wine!
| Ingredient | Calories | Carbohydrates | Protein | Fat |
| --- | --- | --- | --- | --- |
| Shrimp | 100 | 1g | 20g | 1g |
| Coconut | 150 | 5g | 2g | 15g |
| Rice | 200 | 45g | 4g | 1g |
| Vegetables | 50 | 10g | 2g | 0g |
| Sauce | 100 | 25g | 0g | 0g |
Ingredients
1 family size package SeaPak® Jumbo Coconut Shrimp
3 tablespoons minced cilantro
For the rice:
¾ cup coconut water
¾ cup jasmati or other long-grain rice
Zest of 1 lime
½ cup shredded carrots
2 tablespoons finely chopped red onion
Kosher salt and freshly ground pepper
For the sauce:
1 cup pina colada mix
5 tablespoons water
2 tablespoons crushed pineapple
4 teaspoons sweetened flaked coconut
3 tablespoons powdered sugar
1½ teaspoons cornstarch
Instructions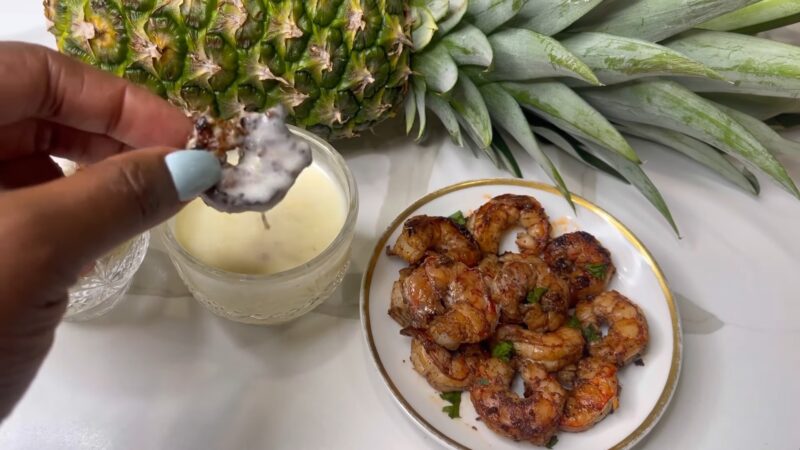 Prepare the pina colada sauce by combining the pina colada mix, water, pineapple and coconut in a small saucepan. Bring to a simmer and cook for 10 minutes. Combine the cornstarch and some water in small measuring cup. Stir into the sauce mixture and cook for an additional 5 minutes. Remove from the heat and allow to cool before serving.
For the rice, combine 1 cup water, the coconut water, rice and lime zest in a medium saucepan and bring to a boil. Reduce the heat to medium low; cover and simmer 8 minutes. Remove from the heat; add the carrots, red onion, ¼ teaspoon salt and a few grinds of pepper (do not stir). Cover and let sit 10 minutes, then fluff with a fork to combine.
Cook the shrimp according to the package instructions.
Divide the rice and shrimp between 4 bowls and sprinkle with minced cilantro. Serve with the pina colada dipping sauce.
Cooking Tips:
When it comes to cooking shrimp, timing is everything. Overcooked shrimp can become tough and lose their sweet, delicate flavor. Here are a few tips to ensure your shrimp are cooked to perfection:
Preheat your oven: Make sure your oven is fully preheated before you put the shrimp in. This ensures that they start cooking immediately and helps to seal in their natural juices.
Don't overcrowd the pan: When arranging the shrimp on your baking sheet, make sure they're in a single layer and not touching each other. This allows the heat to circulate evenly and helps the shrimp cook at the same rate.
Keep an eye on them: Shrimp cook quickly, so it's important to check them regularly. They're done when they become opaque and their tails curl inwards to form a loose "C" shape. If the tails curl tightly into an "O" shape, they're likely overcooked.
As for the rice, achieving a fluffy texture can sometimes be a challenge. Here are some tips to help you get it right:
Rinse your rice: Before cooking, rinse your rice under cold water until the water runs clear. This removes excess starch and helps prevent the grains from sticking together.
Use the right amount of water: Too much water can make your rice mushy, while too little can cause it to dry out. A good rule of thumb is to use a 1:1.5 ratio of rice to water.
Let it rest: After the rice is done cooking, let it sit off the heat with the lid on for about 10 minutes. This allows the moisture to distribute evenly throughout the rice, resulting in a fluffier texture.
Variations:
This recipe is quite versatile and can be adapted to suit various dietary needs and preferences. Here are a few ideas:
For a vegetarian version, you could replace the shrimp with tofu or tempeh. Just marinate it in a similar way to the shrimp and bake until crispy.
If you're not a fan of coconut, you could use panko breadcrumbs for a different kind of crunch on your shrimp.
For a spicier kick, add some chopped jalapenos or a dash of hot sauce to the piña colada sauce.
If you're on a low-carb diet, you could replace the rice with cauliflower rice. Just pulse some raw cauliflower in a food processor until it resembles rice, then sauté it in a bit of oil until tender.
For an added burst of flavor, you could mix some chopped pineapple or mango into the rice. This would complement the tropical theme and add a sweet contrast to the savory shrimp.
Final Words
In conclusion, this Coconut Shrimp with Tropical Rice recipe is a delightful way to bring the flavors of the Caribbean right into your kitchen. It's a quick and easy meal that's perfect for busy weeknights, yet impressive enough for entertaining. The SeaPak® Jumbo Coconut Shrimp provides a delicious and convenient base for the dish, while the homemade tropical rice and piña colada sauce add a burst of fresh, vibrant flavors. With a few simple cooking tips and variations, you can easily customize this recipe to suit your taste and dietary needs. So why not take a culinary trip to the tropics tonight? Your taste buds will thank you!